Arma's VJ Homecoming Celebration
1946-Present
Victory over Japan Day (also known as V-J Day) is the day on which Imperial Japan surrendered in World War II, in effect bringing the war to an end. The term has been applied to both of the days on which the initial announcement of Japan's surrender was made – August 15th, 1945, in Japan, and because of time zone differences, August 14th, 1945 (when it was announced in the United States and the rest of the Americas and Eastern Pacific Islands) – as well as September 2nd, 1945, when the surrender document was signed, officially ending World War II.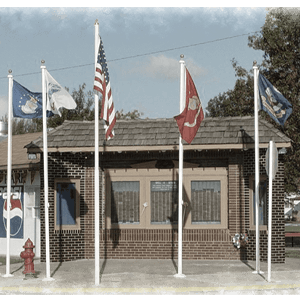 The Veteran's Memorial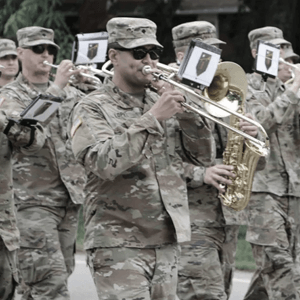 Fort Riley's 1st Infantry Division

Arma's V-J Homecoming which began in 1946 as a celebration started as a way to honor veterans returning from World War II. It has evolved over the last five decades into a family festival.
V-J Day was August 15, 1945, the day the victory over Japan was celebrated by the Allied nations. In early August, the United States unleashed the secret weapon - the atom bomb- and devastated the cities of Hiroshima and Nagasaki. Rumors of peace began to circulate but many Americans feared that a final battle with Japan was inevitable.
However, on the evening of August 14, the rumors were confirmed: Japan's army agreed to lay down its arms and throughout the Pacific guns fell silent. There was a sense of collective relief when the impending invasion of Japan was unexpectedly cancelled by the advent of the atomic age.
On September 2, 1945, on the deck of the battleship USS Missouri, the Japanese finally signed the official surrender document. Americans commemorated the official end of World War II with the first observance of V-J Day - "Victory Over Japan".
That Labor Day weekend marked the end of almost four years of devastation, loss and sacrifice for the nation. More than 300,000 Americans in the armed serviced died in Europe and the Pacific arenas.
The very next year (1946) the Arma V- J Homecoming Celebration was organized by the local post of the American Legion in celebration of the end of World War II. Later the Homecoming Association was organized, which is comprised of officers and committees of individuals. It has grown from a one-day affair to a three-day event that is combined with the annual high school alumni reunion for a full weekend of fun and activities.
Memories
There are no names on the main photograph. If you can identify the members in the picture please let us know: Email: arma2marylou@gmail.com
Thank you to Patricia Smith Wright for identifying her father, Benjamin Franklin Smith of Englevale, KS, as the United States flag bearer. Benjamin Smith fought and was wounded during his service in WWII.