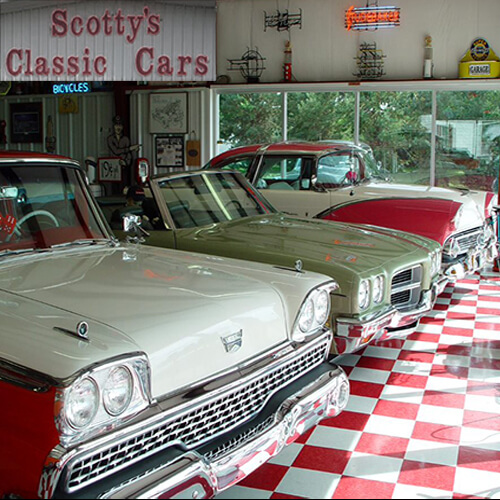 Scotty's Classic Cars
1999-2011
Scotty's Classic Car Museum in Arma quickly became a well-known tourist attraction throughout the country. Scotty and Phyllis worked with the local CVB and the State Tourism board to bring tourists to the area and became one of the most visited tourist sites in southeast Kansas.

The Museum operated from March 1999 to January 8th 2011, from Tuesday through Saturday 11 am to 5pm, while providing an amazing Gift Shop full of unique 50s-60s automobilia collectibles.

Being highly skilled in automobile restoration work, he often started from nearly the ground up. It typically took him about a year to restore an automobile.

When Scotty closed the Museum in January of 2011 due to health reasons, his collection of vehicles (except for 8) were sold to the Central Texas Museum of Automotive History in Rosanky, Texas.
1938 Ford Club Cabriolet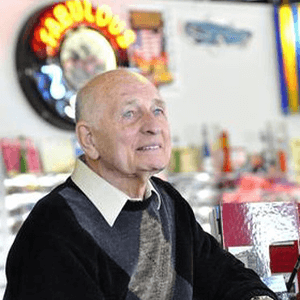 Scotty Bitner
The Museum
Opened in March, 1999 in Arma, Kansas. Scotty had always had an interest in classic cars and had restored many of them. He joked about buying one that was in pieces in baskets. It was his favorite car (1938 Ford Club Cabriolet). It was difficult to document the restoration of that vehicle because it was very rare and he could only find 5 that actually still existed.
The museum was named after his grandson, Scotty Michael Bitner, who died in 1993 at the age of 6.
The museum was listed on state and national tourism sites. Visitors had come from every state in the US. Also visitors were documented worldwide. A map in the museum with stick pins noted where visitors had come from which included many European countries, Australia, and many others. The museum was visited by car clubs from throughout the United States. As he had done in the past, Scotty was always available for mentoring and advising someone who was restoring an old vehicle or to answer any auto related question. He received calls from across the nation from people asking advice and guidance. He particularly loved when young people showed an interest in preserving the automotive history.
Many high school students took their senior pictures in the museum and one particular memorable moment was when the entire senior class from Northeast High School came dressed in the era (zoot suits, poodle skirts, leather jackets, etc.) and took their photos. He also provided cars for proms to use as a backdrop and vintage cars could also be seen in parades with King and Queen Candidates, city and county officials, veterans and others. Local kids always knew where to go if they had a question about cars or if they needed air in the bicycle tires. Final day at closing of the museum, January 8, 2011: CVB Director Craig Hull noted it was a huge loss to southeast Kansas and the entire state. Over 700 visitors came to see Scotty and told him stories of how he had affected their lives. After closing, the contents of the museum were sold to another museum, the Central Texas Museum of Automotive History and Dick's Classic Garage in San Marcos, Texas.
Scotty was well-known for his generosity and caring heart although he mostly did these things quietly and with no recognition. He assisted with recovery efforts and rebuilding of his wife's home community after a devastating tornado of 2003. He served as a guide for the Red Cross throughout the damaged areas in the county after the tornado.
He helped build the Pavillion at Franklin Park, assembled and installed playground equipment.
He restored the St. Philip Neri Bell after the church was torn down and he and Larry Barrett of Barrett Body Frame and Towing installed the bell at the top of the sign at Miners Hall Museum. He also helped with restoration of many items that are now on display at the museum and the Franklin Community Park. He volunteered for many projects at the museum including making trips to western Kansas regarding the installation of the Smithsonian Exhibit. He then guided locals in the installation project.
He met with Mike Conlin who was starting to develop the Jefferson Highway Association. He gave them a tour of the route along Highway 69 which included lunch at "Corner Bistro" that is located in the building with the concrete sign that says "Jefferson Highway Garage". (4th and Pine, currently is the Lord's Diner). Scotty and his wife, Phyllis, are founding members of the Jefferson Highway Association.
Scotty gave a tour to staff and officers of the Kansas State Historical Society relating to mining history, automotive and general history of southeast Kansas. They were particularly impressed with seeing the strip pits. He met with Kansas Sampler Director Marci Penner and appeared in her guidebook of Kansas. Scotty was a very humble man and was described by many as "kind, sweet, honest, and a true legend" but he was always just happy to share the history of southeast Kansas and his knowledge of the automobile industry to others. He was a true historian not only as it related to the automotive industry but the history of southeast Kansas as well.
He was quick to offer assistance for any needs and offered anonymous help to those less fortunate. His self-taught business expertise, his caring heart, and his love for the auto industry brought great joy to his life but the biggest love of all was his family. He took great pride in their lives and was so happy to watch, advise, and support the grandchildren throughout their formative years. His legacy lives on in those children, grandchildren, and great-grandchildren.
Scotty's ability to treat everyone equally was a characteristic that many mentioned throughout the years. His wife relates a story of a troubled young man who asked her if she knew what he liked most about Scotty. He said, "He treats me just like everyone else."
Background on Scotty Joe Bitner
Scotty was born into a hard working family. His father, Joe Bitner, had a garage in his backyard and worked on people's cars. Joe always found jobs for Scotty to do even at a very young age (as young as 8). Scotty said his dad handed him a can of aluminum paint and a paint brush. His dad told him to paint in one direction and not both ways because it was so thin it would splatter. He then was taught how to hand polish the entire car. Joe built many area race cars and was well known for his ability as a mechanic. Those cars raced in local tracks in the '30s and '40s. (Crawford County Speedway, Girard, KS (fairgrounds) and the Green Top Speedway in Joplin (Stone's Corner) Scotty began working after school for Bill Lemon in 1951 (at the age of 13) at his car lot located at 4th and Pine (Brenner Mortuary now). He cleaned cars and ran errands. Bill started the business with 4 cars. Bill later moved to Quincy and Broadway (now McDonalds) and began Friendly Auto Mart.
During this time Scotty mentored many college students who worked part time for Bill. Many of those young people have contacted him (50 years later) to tell him how valuable his instruction was. Many went on to careers in the automobile industry.
Scotty also became a local racing legend. He raced at Joplin Speedway, 71 Speedway in Neosho, Springfield, Nevada and several other small area tracks. He raced in Springfield with NASCAR driver Mark Martin. He never moved up to the NASCAR level because at that time he would have had to move to the south to get into that field. He did travel for over 30 years to the Daytona 500 and personally met many of the NASCAR personalities in addition to Mark Martin including Dale Earnhardt, Mark Martin, Bill Elliott, Davey Allison, Benny Parsons, Jack Rousch and others. One fun event was having lunch with Joe Nemechek and his wife Andrea. He also sponsored Jack Rousch in the "Great American Race" which is a cross country race and this particular year had a stop in Fort Scott so he was able to meet with him and have lunch with him during that time.
Scotty also operated 69 Speedway in Pittsburg, KS. It was located where Home Depot is now. Dick Butler and Arlis Standlee owned the race track together. Scotty worked there for them when he was young. They had built the track. Arlis Standlee took Scotty out to the racetrack (69 Speedway) to clean it up. Arlis was a good man. Arlis had the biggest hands and was a big strong man. Scotty had seen him pick up a railroad tie and carry it. He said "he worked me to death at the racetrack. I whitewashed the fence and worked in the concession stand and a little building for a flagman stand." At one time the guys flagged right on the ground of the track. They later had a flag stand. It was closed for several years. He supposedly had it sold but the deal fell through. Scotty and a friend (Doyle Snyder) leased it and operated it.
At 69 Speedway they just ran one class (full bodied). That was in 1961. Operated it one year only then Dick Butler (the owner of the property) sold it.
Scotty and Doyle were the first PROMOTERS to have Late Model Full Body cars run weekly in the four-state area (1961). After much success in the sport of auto racing, Scotty ended his personal racing career in 1970 to focus on his business career. His son, Mike Bitner, began racing in 1979 and follows in his dad's footsteps.
Scotty was the track champion at Nevada Speedway in their first year of operation (1963). 52 years later (2015) his son, Mike, became the track champion. Mike was invited to drive in a late model touring series and continues to travel throughout the 4 state area to different tracks to compete. He and his dad continued to build cars and work on them together until his dad's passing. They were scheduled to race the weekend prior to his passing.
Scotty has taught us through his example that being remembered as a sweet, kind, and nice person are good adjectives to have before your name.
Memories
The museum was more than a shrine for car lovers. It was an atraction that pulled people off the highway and into Arma.
- Jerry Waltrip Jan 8th 2011
The closing of Scotty's is a loss that will be felt by the travel and tourism industry not only in Crawford County, but all of Southeast Kansas.
- Craig Hull (Director of Crawford County Convention & Visitors Bureau) Jan 7th 2011