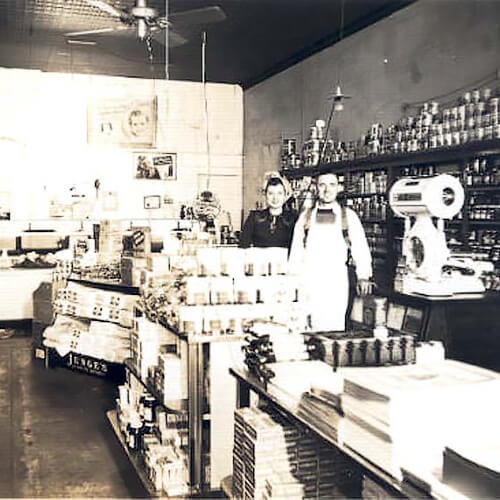 Ossana's Grocery & Supermarket
1911-1981
The history of Ossana's Grocery began with European immigrant and founder, Otto Louis Ossana who was born to Joseph Celeste and Maria Goldner Ossana on January 17, 1886, in the Italian region of Tyrol.

At the age of 19, he boarded the steamship St. Paul at the port of Le Havre, France. He arrived in New York sometime in February 1905. He spoke no English and had very little money in his pocket. At some point the spelling of his name changed from the original Ossanno to its present spelling. Many of the families in Italy have since changed their name's spelling to Ossana.

He went to work in the Pennsylvania coal mines, but not for long. One night he had a dream that if he went back to work in the deep shaft, he would not come out alive. Needless to say, he left coal mining behind him.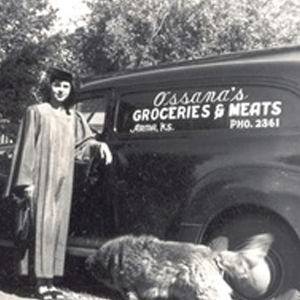 Grocery delivery vehicle
Inside of store
He moved to Chicopee, Kansas where he worked with his brother Giuseppe (Joe). Otto delivered meat from door-to-door by horse-drawn wagon with a tall, black wooden cover over the bed. He rang a bell announcing his presence in the neighborhood. His son, Otto, still has that bell.
At one of the houses, he encountered a pretty young girl whose father was a miner. Romance bloomed which resulted in their marriage on June 29, 1911. Otto and Lena Bertha Ott Ossana (born June 6, 1888) moved to Frontenac to operate a grocery store for a living.
Within a short time, they moved to the promising new town of Arma which was founded in 1909. Otto built a structure at 604 E. Washington to continue in the grocery business. Between the years 1912 to 1933, seven children were born to the Ossana family. They are Lena Viola (Bartelli) who is deceased (1999), Clara Marie (Mattson), Otto Johnnie Joe, Joe Charles (deceased 1994), Mary Frita (Morrison), Emma Valentina (Hartshorn) (deceased 2007) and Louise Lois (Casaletto) Ossana. Between the births of the children, Otto Ossana, Sr. was naturalized as an American citizen in 1922.
The small community grew with the arrival of emigrants from all over Europe to work in the coal mines. Many businessmen hired girls with different ethnic backgrounds to help their customers who spoke no English. However, Otto learned enough of each language spoken by his customers to meet their needs. Several of his seven children worked, from time to time, in the store.
These were the days of high tin-patterned ceilings with wooden-bladed fans that swirled above the customers heads during hot summer months. A rather large coal stove downstairs was used to heat the store and the apartment above the warehouse that ran the entire length of the building, just east of the attached store.
A customer could have custom cuts of fresh meat in any amount, freshly ground coffee, and crackers, cookies, pickles and everyday commodities plucked out of wooden barrels, or from drawers found behind viewing windows for various tantalizing foods.
The family business weathered and proved itself through the rigors of infancy and survived the Depression during its maturity.
Otto's youthful drive made it possible for him to raise livestock which was processed in his own slaughter house located at his residence at 701 Long Avenue near the southeastern edge of Arma. He had bought the land from Andrew Allen and built the house in 1916.
By the time Otto was thinking of retirement, World War II was almost over. He desired to see the business remain a family tradition. After several options were considered, his twenty-eight year old son, Joe, was convinced to return home from the army to become the new owner. Joe brought with him his wife Ava Margueritte Showalter Ossana (born July 3, 1923) from the Wichita area. They were married in the Rose Hill Methodist church on April 5, 1942.
Lena Bertha Ott Ossana died March 12, 1963 in Mt. Carmel Hospital, off Atkinson Street. Otto died at his home on August 26, 1965, after more than a decade of fighting cancer.
The grocery business in 1946 was much the same as it had been for years. Groceries were still delivered to the housewives' door until the mid-1960s. There were seven groceries stores in Arma in the 1940s and 1950s, all about the same size.
Saturday continued to be a festive day when all the farmers and miners came to town to add to the crowd of people on the streets and in the stores.
Joe continued the same tradition of processing his own meat to the customer's satisfaction. He purchased the livestock from area farmers or the Parson's stockyard. Eventually, he became too busy in the store to give time to the slaughter house. Consequently, he ordered meats from several packing houses in the ten-county area of southeast Kansas, including the Menghini Brother Meat Packing Plant in Frontenac. The Menghini brothers had also come from Tyrol as Otto Ossana, Sr. had years earlier, and proved to be true friends in business and socially.
In the 1950s, Joe began to branch out making tasty sausages (smoked and fresh pork, and small breakfast links), garlic and hard salami, chili bricks, beef jerky, porketta, blood sausage and more. These delicatessen items were taken far and wide across the United States and even aboard to some small degree over the years.
During U. S. Senator Joe Skubitz' service in Washington, D. C., he would come to purchase Dad's sausage. It was served in the U. S. Capitol cafeteria.
The secret to the much sought after deli items, particularly the sausage, was to keep the recipe simple instead of adding conflicting spices that cancelled each other out. He had the favor of several "old timers" who initially shared recipes that he perfected over the years, and who also showed him how to make the most effective smoke house.
When other businessmen who wanted to make smoked sausage and other meats came to ask for help, he passed on the secrets of how to build a smoke house that properly cured the meats. In one instance, a family came to get the information and tried to improve on the idea by changing the construction and procedure of their smoke house only to find that the meat was not properly cured. They had to come back to get the exact information once again. They have since succeeded with the dimensions, distance from the fire, temperatures, and length of curing. Dad's experience proved itself valuable.
When Dad rendered lard, he would cover the wood-heated vat with a muslin cloth so we could cook potato chips as the hot lard was poured over the cloth. It was something we looked forward to and is a good memory to this day.
My brother or I often accompanied him to the Pittsburg Fadler's wholesale warehouse (located in the last Monsour building on Elm Street and Marrone's (housed in the present site of Bricktown on Pine Street). Dad would make selections of vegetables and fruits that were needed at the store between the deliveries made to Arma. It was always interesting to watch the tarantulas move under the cover of their thick nests of white gossamer webbing on the ceiling of the banana room at Fadler's.
One day we opened a banana box delivered to the store and out jumped a huge tarantula. My mother was in favor of killing it, but Dad managed to corral it into a mason jar, poked holes for air, and took it to the high school in case anyone wanted to have a look at a non-indigenous aracnid.
Ava went to work in the store in the late 1950s. At the age of eleven, their daughter Debby (Close) went to work after school and on Saturdays. In 1963, after seventeen years in the original building, Joe and Ava purchased the larger building at 606 E. Washington. The building was made available when Charles Police sold it, ending another family tradition started by his father, Tom Police.
Mom expanded the grocery business by adding gifts and permanent flowers sold separately or in arrangements that she made for all occasions.
The store was never open on Sunday. The store was never robbed of its cash drawer or broken into at night. Joe and Ava provided a good example of how to meet the public for they had set high standards. Some of the young men and others who found employment throughout the years in the store were John James, Pete Hofer, Roger Doue, Jerry James, Kenny Filosa, Ronnie Fisher, Danny Fisher, Jim Saia, Brent Bedene, Bruce Bedene, David Black, Larry Black, Lonnie Seglie, Andy Ashbacher, Steve Ashbacher, Frankie Barone, George Aubert, Kenny Ossana (Joe and Ava's son), Larry Sustarsic, Frank Sustarsic, Larry Spahn, Larry Beltram, John Mlekus, Gary Bea, Marvin (Buddy) Bualle, Anthony (Buddy) Gorentz, John Gorentz, Robert Gorentz, David Gorentz, Dale Wicker, Danny Pichler, Frank Polsak, Jim Karlinger, Buffy Buffington, Red Cummings, Gin Rowland, Mary Beth Martin, Janet Gilbert, Linda Sustarsic, Lila Arck and Chris Pakitsos.
In 1981, Joe and Ava decided to retire. The store was leased several years to different men who owned other stores in the area, but eventually when the United States Post Office was looking for a remodeled building, it was decided to lease half of the building for that purpose.
Joe continued to make deli foods from his shop east of his house at 213 West Washington. He delivered them to area grocery stores until 1990.
Joe passed away on August 2, 1994 in the Joplin Freeman Hospital at the age of seventy-six. He is buried in the Garden of Memories where his mother and father are also interred.
Ava sold the properties in 1999, ending the family ownership of the buildings in the 600 block of Washington Street in downtown Arma, Kansas.
Memories
My Grandfather, Otto Ossana, owned Ossana Grocery, until my Uncle Joe Ossana took it over. - Memory of David Casaletto
Even my husband talks about Joe Ossana's homemade sausage (fresh & smoked). Mike always says, "Johnsonville ain't got a clue as to what good sausage is." - Memory of Audrey Andrews Weber